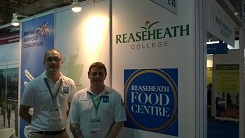 Food lecturers' international trade mission to India
Last month James Blakemore and myself (Martin Anderson) attended the International Food Tec India trade show in Mumbai, India, as part of a UK Trade and Investment delegation, organised by Hull and Humberside Chamber of Commerce.
The purpose of our visit was to explore the potential for collaboration with one of the world's biggest dairy sectors. As it emerges as an economic superpower, India still finds itself with a very localised dairy market with 85% 'free milk' carried in open vessels to be used immediately or boiled at home rather than travelling through a vertically integrated supply chain to a retailer as we might see in the UK.
The exhibition had international pavilions from China, Europe, France, Germany, Italy, Republic of Korea, The Netherlands, Turkey and the UK. A total of 466 exhibitors from over 30 countries presented their products and technologies with 12,007 visitors attending the show over the three days.
The Reaseheath stand received a lot of interest from food and drink businesses from across the Indian sub-continent. There was particular interest in the new Dairy Industry Skills course (DISC) and the EDEN Foundation degree in Dairy Technology with over 30 new international contacts made, including new and existing dairy businesses, potential students and academic partnerships with Indian educational institutions.
We were made to feel incredibly welcome by all of the people we interacted with and it is apparent that the opportunities for sharing knowledge, developing and delivering consultancy, training and education in both India and the UK is immense.
The trade show seminars were also a great source for knowledge sharing. 'Future of Milk Based Nutraceuticals', organised by Indian Dairy Association (West Zone), welcomed as its Guests of Honour Prof. Dr. G. D. Yadav, Vice Chancellor and Dr. Mrs. Smita Lele, AG Registrar, ICT (Institute of Chemical Technology) and Mr. M. D. Deore, Director – Toxicology, Johnson & Johnson. Eminent speakers included Mr. A. K. Bayati, GCMMF and Mr. Allan Brunn, Alfa Laval.
'Packaging Innovations in Pharmaceutical industry' organised by India Pharma Machinery Manufacturers Association (IPMMA) witnessed delegates like Ms. Neelam Lalwani, General Manager – Packaging, Sun Pharma Industries Pvt. Ltd., Mr. Sanjeev Khandelwal, Director Renewable Packaging, Stora Enso India and Mr. Chander Mohan Negi, Asst. General Manager, Akumentis Healthcare Ltd., among others.
We attended a business meeting the day after the trade show with a company that is setting up a
brand new dairy in the Mumbai region. They were really interested in looking at how they might involve training and education for India's dairy technologists within their new build project and how we might work in partnership to grow programmes like EDEN and DISC to meet the needs of the changing Indian dairy market.
We had an amazing time in one of the world's busiest cities (21 million people!), sampled some amazing cuisine and travelled in
some of the scariest traffic known to man. I somehow managed to contract Dengue fever and Salmonella at the end of the trip, but it didn't detract from the success of this international trade mission and now I'm feeling better I'm happy to be a walking case study for my own food safety lectures!
We hope to return soon and to accept visitors from India to Reaseheath in the near future.
Martin Anderson
Lecturer in Food Science