BRC Grade AA Certification Achieved for Reaseheath Food Centre!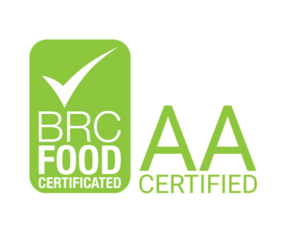 Reaseheath College's Food Centre in Cheshire has proved it continues to operate at the highest industry standards by becoming the first educational institution in the world to achieve Grade AA certification for food safety from the British Retail Consortium (BRC). This is the highest possible benchmark for best practice in food manufacture.
The quality mark was approved after an exacting two day food safety audit of processes and procedures within Reaseheath's food factory showed that manufacturing systems continue to operate under highly controlled conditions and to the highest industry standards. Areas inspected included food safety procedures, hygiene standards, traceability of food ingredients and recording, control and management systems. The auditor was particularly impressed with the high level of knowledge and commitment of staff and students.
The successful bid was led by Reaseheath's Quality Assurance Co-ordinator Laura Broome, supported by Reaseheath's quality team with guidance from Processing Halls Manager Mike Bennett and external Technical Consultant Dr Paul Carter.
Grade AA certification is aimed at suppliers of major retailers. Although Reaseheath does not necessarily need this highest standard to operate it is part of the college's insistence that students are trained under industry conditions.
Commented Mike Bennett: "The team has worked extremely hard to ensure we deliver the best possible service to our students and should be congratulated on their success. Thanks to their hard work, we are ensuring the changing standards within industry are replicated in a controlled learning environment.
"In addition to our own students we have many trainees here from blue chip dairy companies such as Arla Foods, Muller, Dairy Crest, Wyke Farms, Meadow Foods and Glanbia and it essential that they are thoroughly prepared for the world of work.
"This was a very robust audit and special praise should go to Laura Broome for leading the team to such a successful conclusion. The result showed a significant improvement over previous years, (when Reaseheath was awarded BRC Grade A Version 7), with proof that all values are embedded across the team. We will continue to continue the pursuit of excellence in the knowledge that we will be aiming to meet the new requirements of BRC Version 8 in 2019."
Reaseheath's £7 million Food Centre was opened in 2011 and remains one of the best equipped food processing teaching and practical facilities in Europe. Built to exacting standards and staffed by a team of specialist food technologists recruited directly from the food industry, the centre has dairy processing halls and production areas for butchery, bakery, cake design and confectionery.
Many local, national and international food and drink manufacturers use the facilities for new product development, technical advice or staff training. These partnerships lead to work experience and job opportunities for the college's food technology students. The college also offers training sessions to members of the public which include cake decoration, HACCP and food safety.