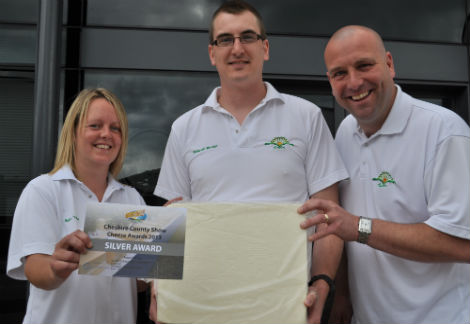 Reaseheath cheese wins silver at Show
A mature Cheshire cheese made by dairy technology students at Reaseheath College in Nantwich, took a top prize at the Cheshire Show. The cheese, made from local milk, took the silver award in a section specifically for Cheshire cheeses.
The 25kg block was selected by judges above entries from some of the UK's top cheesemakers. The students are part of a initiative called Project Eden, which has been created with the input and support of blue chip, small and medium sized dairy companies and is aimed at training the next generation of dairy technologists. The trainees, many of whom are new entrants to the industry, attend college on a block release basis and spend the rest of their time in the workplace.
The team, who made the winning cheese as part of their practical studies, were second year students Russell Brown (Muller Wiseman), Sue Twist (Arla Foods) and Steve Woods (Dairy Crest). Cheshire Show cheese judge Jack Eade, said: "The standard in the mature Cheshire cheese category was very high. The judging panel was looking for cheeses which retained the fresh citrus notes typical of Cheshire cheese but with a greater depth of flavour consistent with a mature cheese.